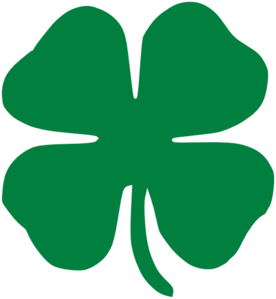 For many people, mid-March is all about college basketball and a celebration of all things Irish*. For me, the advent of Daylight Saving Time along with milder temperatures signifies the start of the yard-saling season.
It is always a welcome sight to see garage sale signs taped to power poles, and Craigslist chock-full of listings for community rummage sales and mommy markets. Part of the fun is planning a route prior to the big day that uses time and distance to maximize the number of stops. Because most yard sales happen between the hours of 8-12pm, more locations equal a better chance of scoring something good. Although Internet listings sometimes provide details about the items up for sale, a general rule of thumb is quantity over quality.
It is with that mindset that I put together this week's itinerary, which included a community yard sale roughly (30) minutes away. Although this is slightly further than I normally travel, the extra distance proved to be worth it. The haul was not large, but it falls in line with another tenant of yard-saling: when it comes to buying, focus on quality rather than quantity. Unless you plan to immediately re-sell the bulk of your finds (as I did last year), you need to have space in your own home for all these 'treasures' (no sense moving it from one attic to another). It's easy to get caught up in the spirit of the hunt and fork over cash until your car trunk looks like a pawn shop. I stuck to my guns today and only picked up a few choice movie memorabilia items:
Week One – March 17th, 2012
| | | | | |
| --- | --- | --- | --- | --- |
| Item | Cost | Condition | Est. Value* | +/- |
| Close Encounters of the Third Kind: The Motion Picture Soundtrack on Vinyl (45 single also stuffed inside jacket) | $1 | Very Good | $5 | +4 |
| Close Encounters of the Third Kind Souvenir Magazine | $3 | Good | $5 | +2 |
| Gremlins Souvenir Magazine | $3 | Good | $10 | +7 |
| Total | $7 | | $20 | +13 |
(*Est. Values primarily come from EBay, where buy-it-now prices are used if no active auctions are found)
John William's score for Close Encounters is a masterpiece that provides a strong, emotional anchor to the film's awe-inspiring visuals. Although the album is fairly common, it's nice to find one in such good shape (especially with the 45 RPM 'complimentary single' that includes the main theme).
The souvenir magazine for
Close Encounters
is gushing with praise for the film, although that's hardly surprising given the film's tremendous box office success (just six months after the release of
Star Wars
). It's easy to forget the cultural impact Close Encounters had back in the late 1970s**. Unlike today's marketing-driven 'blockbusters', Close Encounters was considered an event to be witnessed, something more akin to a religious or spiritual experience. Its positive message that 'we are not alone' unified moviegoers like never before, prompting reviewer Paul Clemens to suggest "Close Encounters of the Third Kind is quite possibly the most important film of our time."
The magazine for Gremlins uses photos, production sketches and behind the scenes details to tell the 'complete' story of the movie. Although the film was a commercial and critical success, its violent imagery was one of the factors that led the MPAA to update its rating system to include a PG-13 designation


*It just so happens my mother-in-law's birthday is also March 17th. As a young girl growing up in New York, she would watch the yearly St. Patrick's Day parade with the satisfaction the parade was for her.



**When the American Film Institute (A.F.I.) released a list of the top 100 films back in 1998, Close Encounters of the Third Kind was number 64. When the list was updated ten years later, it was removed from the list entirely. Perhaps not so important after all…